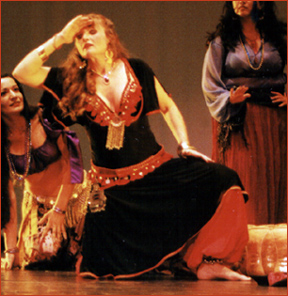 Jasmin Jahal as the Gypsy Fortune Teller:
This ensemble was created especially for Jasmin Jahal's character "Nadia, the Fortune Teller" in her performance in the theater production of KISMET-One Man's Destiny in August 2002.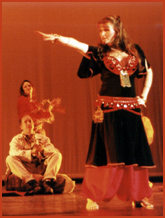 A black-based decorated bra & cross-over closure belt are embellished with the character's signature red color trims & fringes. The bedlah set is dripping with real arabic coins, brass bells, cowry shells & Kuchi-tribe Afghani pieces, which create a belly drape & lots of flash for the hipwork. The underbust neckline on the fitted dress is trimmed to match its' full-circle 3/4 length skirt hem & slit-butterfly sleeves. Red silk full harem pants & belled anklets complete the look.
Hair/Make-up by Sonya Hohmann, photo by Adrian Rivera
---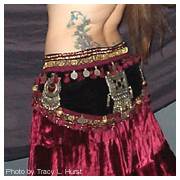 Gypsy-Tribal: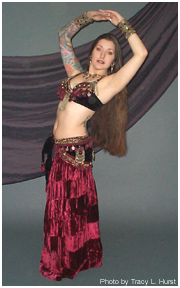 Much like the fortune teller set, this Bedlah was a proto-type of sorts, inspired by what Iconsider as the typical gypsy look with a tribal touch. I made this for my weekends at the Renaissance Faire, baring my belly & dancing for the drum jam. The rich black velvet bra base & triangular belt with super-long ties has a burgundy theme with decorative tape & trims, tassels, real arabic coins, bells, cowrie shells, the keys to my heart & Kuchi-tribe Afghani pieces featuring red & blue glass & Lapis Lazuli. Worn usually with a burgundy patchwork velvet skirt, traditional Kuchi necklace & wide Kuchi cuffs.
(Hair/Make-Up by Sonya Hohmann)
---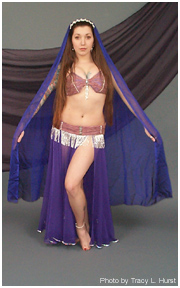 1940's Runched "Amira":
A slightly wider belt in a classic scoop-back style, large center-back round applique with Cubic Zirconia (CZ), silver & pearls. Shining silver 5" fringe all-around, crushed organza has an irridecent quality to it, with strung CZs adorning vertically. Bra is bandeau style with a halter strap, same runched design as the belt with a small tassel of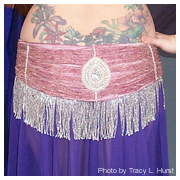 fringe for a belly drape. A 1.5 full circle chiffon skirt with 2 slits is ahown here trimmed in silver sequins & numerous CZ flower shapes (seen best as it opens during a spin) with matching head veil, attached to a CZ tiara-like metal headband, velcro added to help it be non-slip on the hair. A set for a princess!
---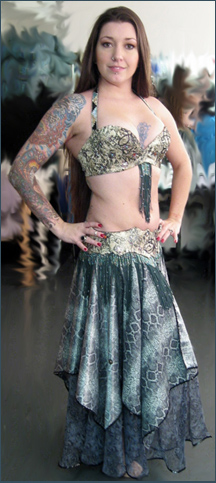 Snake Dance:
I have to credit my friend Bob for his "eye" in helping me choose the textiles for this specialty costume, for which I purchased the fabrics about 2 years before I made the set.
Designed for a very specific choreography that starts with a touch of floorwork, yet I was opposed to the usual billowy look of harem pants. (Look to my Photo Gallery for in-action shots!)
For modesty I chose the layered look with a long, full-circle, 1-slit sheer, charcoal-snake print chiffon skirt (also a veil to match!). Over that are 2 shorter four-point accent skirts, offset, one layer matte with deep green hues & the other shimmery silver-green, dotted with round shisha-mirrors. All three layers are trimmed with black sequining on their hems & slits.
Bra & belt are covered in a golden snake-print short-nap velvet covered in diamond-shape clusters of volcanic rhinestones & charcoal-holographic sequins secured with an Aurora Borelis rocaille. Volcanic rhinestones reflect 2-3 colors, depending on the angle you view it, plus has an iris sheen on the faceted stone, very stunning. Double-layer of fringe, a 2" glass confetti-mix with golds, silvers & turquoises on top of an 8" green suede fringe with Aurora Borelis beads threaded onto them for a dew-like effect. The front & back of the belt as well as the decollage bra are accented with a swirling undulative black embroidery, mirroring the curvy edge of the belt. Fully beaded halter strap, ankle & bicep cuffs & specialty jewelry complete the look.

Hair/Make-Up by Sonya Hohmann, photo by Erika Ochoa

---
"I Dream of Jeannie"-Turkish Harem Gal:

This was fun! I made front-slit harem pants set (trimmed in gold sequining) with a matching halter top (trimmed in Indian silk sari fringe) out of a super-lightweight yet non-see-thru pink polyester. A simple triangluar hip sash with 'snake biting its own tail' belt over it ties in the front, a fabulous irridecent violet-royal blue with a black sheen, with tasseled tie ends. To match the hips, there's a reversible vest with scalloped front. All this is topped off with a little fez cap complete with long-hair hole (or real long hair attached!) & small under-chin face veil--very cute!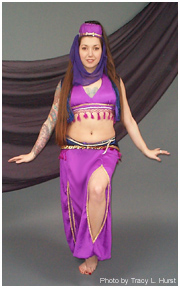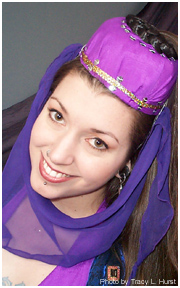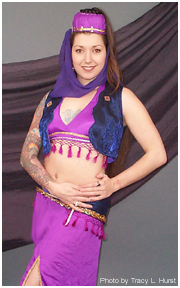 ---
Melaya Lef: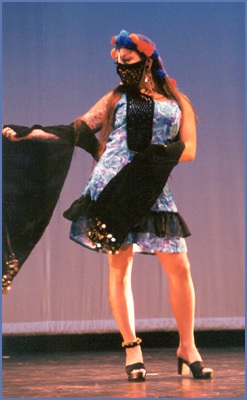 I have quite a bit of folkloric experience, of which my favorite is Melaya Lef (with Saudi/Khaleegy as a close second!), the flirtatious dance of the women of the northern sea ports of Egypt.
This dress is one of a trio I designed, all matching in A-line style & black ruffle but one in spring green & another in fuschia. This fitted, sleeveless dress even has a weighted hem! The hand crocheted bur'qa (face veil) has a raccon-bone-bead seperating the eyes & was made by the same woman who made the quintessential belled anklets. Bright red lipstick helps show off your smile when concealed like this, although it is your eyes that do your flirting. Hair is covered in a proper manner & jewelry is somewhat minimal. The noisy shoes (called 'ship-ship') are as traditional to this dance as the authentic Melaya you see here, the heavy cloak-like veil used within the dance.
Hair/Make-Up by Sonya Hohmann, photo by Adrian Rivera

---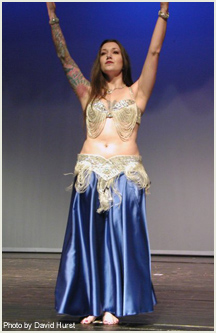 Diamond Bedlah Set:

I ordered a 'blank' bra & belt set & overtook the design and construction task. It's a classic 'scoop' style belt, which I had to do some darting on to have it cup the bum in a nice way, so it won't ride up. I had decided an all silver (or gold) costume would be most versatile, so I didn't really want to incorporate any specific color, which lead me to settle happily on Aurora Borelis (AB) appliques & volcanic/iris rhinestones. I added the swag & str8 fringe with pailettes in a flattering way, wanting to get that 40's feel in the swagged bra. A large AB teardrop sits in the center of your cleavage, & a large silver & AB brooch centers the front of the belt. Shown with a full-circle satin charmeuse skirt-a classic style for the modern belly dancer.